!3/08/02 -- 9/16/04>
RESURRECTION SCHOOL CLASS OF JUNE 1938
Resurrection Class of June 1938. (left to right) First row: Ella Keating, Mary Barry, Mary Slone, Dorothy Zeigler, Dolores Walsh, Sister Mary Thomas, Frank Jung, Sister Dommtilla, Elizabeth Duggan, Veronica Walan, Rosemary Moran, Gloria Mumary, Ellen Moran.
Second row: James O'Connor, Thomas Maloney, Thomas Farrell, Walter Parks, Lawrence Reid, Robert Cunningham, James Rogers, Alice Rocco, Henrietta Wright, Rose Jung, Christina Dolan, Anna Louis, Leo Duffy, George Nixon, Robert O'Brien, Joseph Ruane, Dominic Lopopalo, John Hardy, Henry Grey.
Third row: Richard Heney, Francis Gillegan, ?, Catherine Bloomfield, Muriel Zimmerman, Catherine Gavitt, Helen Egges, Eleanor Wright, Veronica Reid, Margaret McMan, Catherine Hugh, Jane Maloney, Florence Maloney, Gladys Murphy, Marion Hiller, Helen Foley, Viola Adrian, Mary Kelly, George Pages.
Fourth row: Mathew Hennessey, John Donnelly, Charles Smith, John Closic, Thomas Chanler, James Mahr, James Reilly, George Johnson, Carl Christen, William Housechild, James Petty, Thomas Comboy, Joseph Stark, Al Durocher.
This photo appeared in the May 1966 Gerritsen Globe, which received it from Lar Reid. (Courtesy Elizabeth Reilly McFarland)
---
Jack Donnelly has supplied this page from the Commencement Program and has explained that the picture above includes both February '38 and June '38 grads as shown on his list below.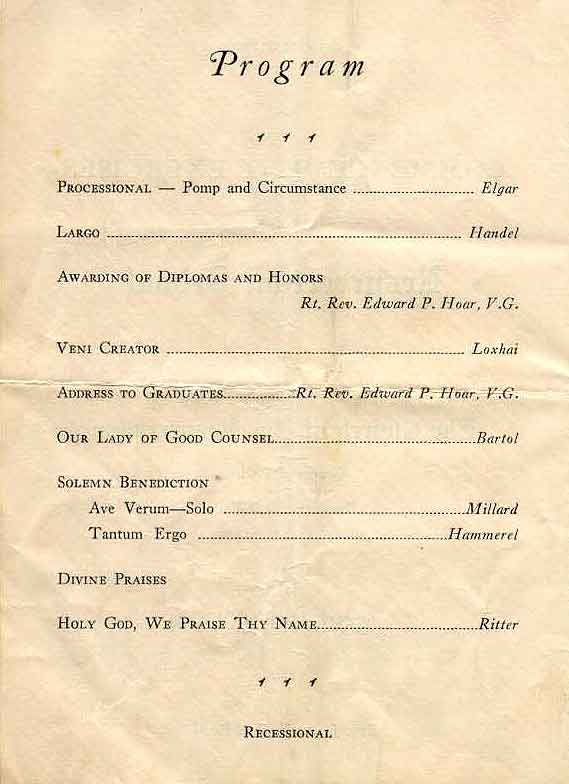 FEBRUARY CLASS
Viola Adrian, Francis Gilligan, Lawrence Reid, Catherine Bloomfield, John Hardy, Veronica Reid, Carl Christen, Richard Hency, James Reilly, John Clossick, Matthew Hennessy, James Rogers, Robert Cunningham, James Maher, Joseph Ruane, f,co Duffy, Jane Maloney, Charles Smith, Thomas Farrell, Margaret McMahon, Joseph Stark, Helen Foley, Gloria Mummery, Heneritta Wright, Catherine Gavitt, Gladys Murphy, Dorothy Ziegler, James Petty.
JUNE CLASS
Mary Barry, Catherine Hughes, George N' , Thomas Chandler, George Johnson, Robert 0, n, Thomas Conboy, Ella Keating, James O'Connor, Christine Dolan, Mary Kelly, Walter Parks, John Donneity, Anna Lewis, George Payez, Elizabeth Duggan, Dominic Lopopolo, Alice Rocco, Alfred Durocher, Eileen Mahon, Mary Sloan, Helen Eggers, Charles Maloney, Dolores Walsh, Alfred Eisenbraun, Florence Maloney, Veronica Whalen, Henry Grey, Rosemary Moran, Eleanor Wright, William Hausechild, Ellen Morrin, Marel Zimmerman, Marian Hiller, Robert Mulligan.
---