RESURRECTION SCHOOL CLASS OF JANUARY 1947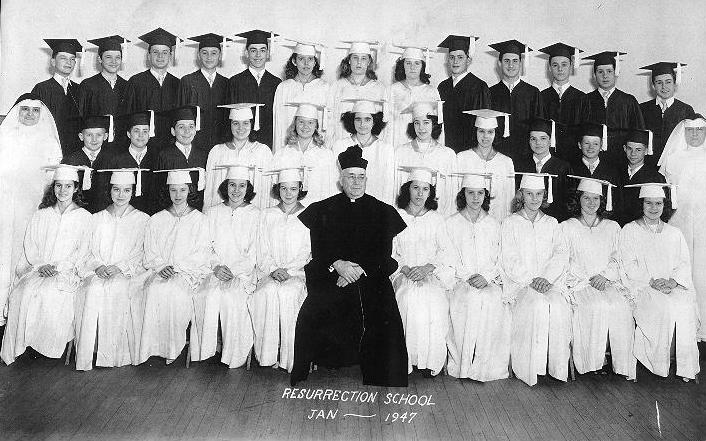 Left to right. First row: Unknown, Madeline Zimmermann, Jane Lynch, Joan Curran, Helen Parlow, Fr. Ronaghan, Ann Shea, Mary Reilly, Dorothy Jung, Kathleen O'Sullivan, Margaret O'Neill.

Second Row: Sr. Lucina, Donald Adrian, unknown, Francis Mitchell, Wilamina Perito, Dorothy Courtney, Patricia Kelly, Jennifer O'Neal, Eileen Tietjen, Joseph Leone, John Redmond, Robert Stark, Sr. Catherine Gertrude.

Third Row: Frederick Bennis, Roy Ange, James Brosnan, George Nelson, John Marren, Patricia Winter, Audrey Zurcher, Patricia Hughes, Norman Kelly, Anthony Perone, Robert Bennett, James Horan, Jerome Stillman.
(Courtesy Mary Monsky)
---
1944 Photo of Classes of January and June 1947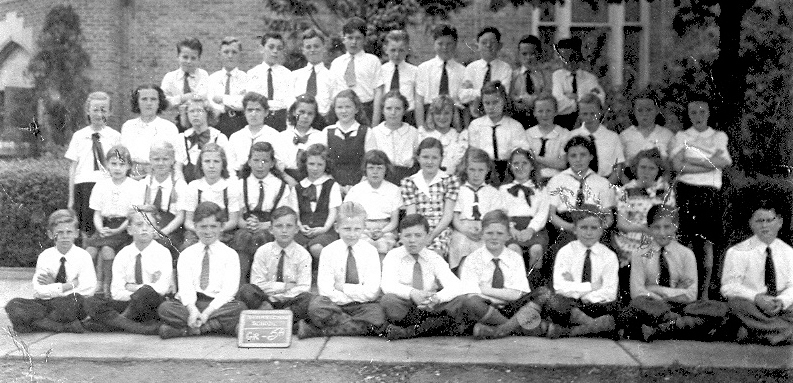 First Row, L to R: Emmet Stark, Buddy Ryan, Jackie Howard**, Frankie Hutter, The Great Johnny "Whitey" Rudden, Billy Fox, Johnny Redmond**, Jerry Stillman**, Tony Perone and good old Eddie Coffey;
Second Row, (All Miss America Contestants!) L to R: Gertrude McCllelan**, Dotty Jung, Joan Curran, Nancy Shea**, Peggy Lynch, Barbara Parlow, Eileen Horan, Catherine O'Keefe, Elizabeth Mulvey. Wilma Perito, Paula Fives;
Third Row, L to R: Ethel or Marlene O'Hagan Twin, Dolores Donnelly, Barbara Schmidt, Zita/LoPoppalo, Eileen Teitgen, Margaret Sullivan, Eileen Hughes, Patricia Sawtell, Audrey Zurcher, Other Twin O'Hagan, Gracemary Blume, Patrica Condron, Mary Elizabeth Anderson;
Top row, L to R: Billy Ryan, George Nelson, Billy Farina, Freddy Bennis, Norman Kelly, Artie Gannon, Eddie Finnegan, Tommy ...., Buster ...., Marren ...., ...???..., Raymond Curtis!!!
(Courtesy John Rudden)
---
Dear Friends,

I'm typing here overcome by the fact that I remember classmates from 2 classes, B & A, 60 years ago!!! No wonder I went into the Detective Bureau of the NYPD!!! Not one of these good people were ever sought by the NYPD. They were the best! If I have made any mistakes on the ID, please let me know via e-mail (jcrudden@frontiernet.net) and if you want to renew our friendship which you should!, please e-mail me forthwith! I have all good memories of all present in the photo! God bless!

Fondly,

Johnny Rudden & Claire, (nee Deery)
May 2004
---